French, Gustavian Chic & Shabby
Shabby Chic
Shabby Chic Style is not rigidly defined, but is achieved through an elegant balance of old and worn, casual romantic furnishings with antiques and elegant adornments
It is a soft, relaxed, romantic style of decorating with an elegant overall effect that looks comfortable and inviting.
The style started in Great Britain and France, it is the type of decoration found in large country/cottage houses but also in small farmers houses
The French-style shabby chic interior design have Rococo/Baroque-style furniture pieces like the classical armoires and chaise longues
The ornate antique and vintage chandeliers, lighting fixtures and candelabra-style wall sconces and candles for soft lighting
Besides this French Country Shabby Chic there is also the Gustavian (Swedish) Shabby Chic
The Gustavian shabby chic style is definitely considered the most luxurious of the shabby chic varieties. Its origins date back to the late 1700s.
It was King Gustav III who visited Versailles and became fond of the style, which has been conserved until today.
The style is highly recognized for the
curved, arched silhouettes, simple flourishes, natural woods and paintwork.
Painted authentic Gustavian furniture was more common in the provincial areas while gilded or dark furniture was more prevalent in the city palaces and stately homes.
The most typical colors found throughout the Gustavian period were gray, yellow ochre and blue.

Gustavian furniture is considered quite expensive but it earns its price tag due to its finest carpentry and reputation as a true valuable antique.
Recycling old furniture and fabrics is an important aspect of the look and was especially popular with modern Bohemians and artisans that made up a sidelined counter-culture movement during the 1980s when expensive quality decor and the French boudoir style became very fashionable with the upper middle classes.

The original shabby chic interiors were usually considered in themselves works of art.
The look is achieved by many different types of vintage items such as furniture and furnishings are either chosen for their appearance of age and signs of wear and tear to give it an aged/distressed/weathered appearance like chipped paint combined with antiques and overstuffed, casual furnishings.
Look for furniture that is worn and faded through the years like old chintz sofas, built-in benches or sofas with old paintwork and with many layers showing through obviously time-worn areas with purposely worn spots which create an antique effect
Look for vintage style pieces painted in soft pastels or shades of white, mint greens, beige tones, pink rose, creamy peach, aqua sky blues

Almost any type of wooden furniture could be transformed to fit into shabby chic interiors, if it is painted white.
To do this you could apply paint with brushes or use a spray paint, then sand down some areas, particularly the corners to rough it up a little.
Popular items
wrought iron curtain rods with light colored cotton ore flimsy sheer curtains
antique metal beds and bedside tables
also natural wooden furniture, floors and walls combines well and pale painted wood wall planks
vintage barkcloth fabric, vintage linens, chenille bedspreads, plenty of mixed and matched luxuriant pillows,
shiny silver accessories, vintage glass pieces (
elaborate furniture appliques depicting flower swags and garlands, cherubs, and other motifs
costal items such as shells, corals and all kind of objects decorated with shells
wicker and woven baskets and accessoires
dreamy floral fabrics and anything with roses in the design which work to pull the character of this concept together.
plenty of fresh cut ore dried flowers certainly add to the overall effect.

The shabby chic aesthetic also expands to the garden, with the same design principles of using timeworn garden furniture in cast iron ore wood
Rose gardens are popular with the shabby chic style of decor.
Neem eens een kijkje op mijn pinterest foto-pagina vol met inspiratie en interieur ideeën in deze stijl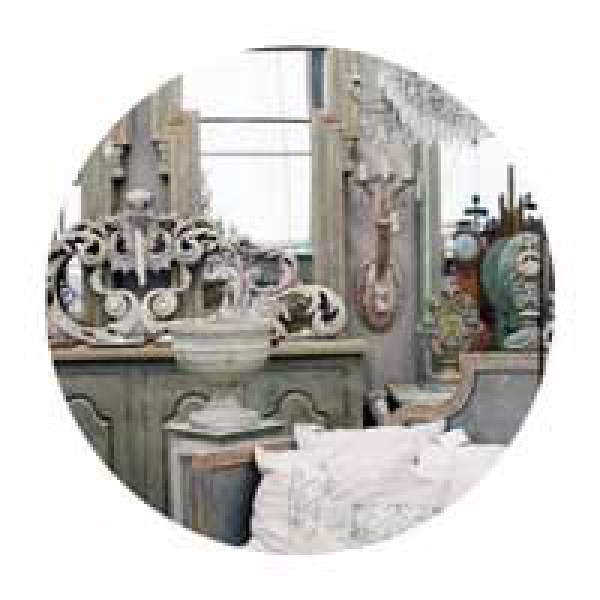 ---