Bohemian, Asian, Eastern, Colonial, Ethnic Exotic Tropical
A truly global style for those who wish to celebrate the world!
You can aesely blend Asian-themed decor and accessories along with African and South American finds in a Bohemian interior
Bohemian
Bohemian design is for people who think outside the box, they embraces the carefree, relaxed and unusual lifestyle.
The Boho Chic interior combines well with the awesome and cool Colonial Safari, Ethnic, Exotic Tropical Style, Eastern and African interiors – for example, Moroccan
Situated in Northern Africa, as one of the only three countries to have a coastline along both the Atlantic and Mediterranean, Morocco has often been the subject of lush and romantic fantasy.
The country is extremely diverse, with residents that are Arab, Berber, and many European and sub-Saharan African immigrants.
The interior design that originates in Morocco reflects this diverse area, rich in cultural traditions and history.
Characterized by intricate carvings, arched doorways, colorful fabrics, kilims, persian rugs and tiles
Bright patterns and warm earthy colors as are metallics. Think brown, terra cotta, gold and other colors in that family.
It should come as no surprise that Moroccan interior design has become quite popular around the world.
The word bohemian dates as far as the 1800's, it was used to name the people who live a certain life style: painters, writers but also vagabonds or wanderers.
Also it was used to describe people who did not agree with the social and political views of that time.
Creating a boho chic living room means creating an absolutely different and a very personalized atmosphere full of life, culture, and interesting items for all the world to see.
Actually, the best feature of this style is that you can use any art pieces, per example your own works and mix colors ad you wish. Because there are no rules it will help you bring out the artistic side in you and incorporate it into your home's look.
The bohemian interiors is
random and busy and full with accessories objects and furniture collected over time, you should create an assortment of these in a way that it looks like trendy disarray.
use natural materials like wood, fur, fabric, leather, plants, burlap and sisal and mix them with silk and chenilles.The materials should have a slightly worn look.
there are not any bare spots in a bohemian room. If you have an empty space, fill it with paintings, pillows and figurines, layer throws on top of furniture and hang tapestries and area rugs on the wall.
be sure to mix lots of patterns and don't be afraid to use colors that wouldn't necessarily go together in a conventional way, just mix and match.You do not have to follow a fixed theme or style – you can bring together ideas from various independent decorating styles but the end result should be something bright, cheerful and artful.
second hand, rustic and vintage items combine very well with bohemian interior, like photo frames, mirrors, portraits, multicolored rugs, cushions, stools, pots, chandeliers and everything can have fringe on it – from pillows, to curtains to lampshades.
think chaises and fainting couches in saturated colors with dark carved wood frames, Victorian pieces combines well with the Boho Chic.
Jewel tones like saturated purple, fiery orange and electric blue often make appearances in accessories like tapestries and art.
Enjoy the variety of materials you may use, each piece should be special and tell a story no matter what it looks like. No one should be able to walk in to a bohemian room and be able to tell where you got the furniture
If you are looking for something calmer and neutral, make a white bohemian interior ore room – it's easy and looks very exquisite.
This will create an atmosphere of comfort and coziness, while and the same time looking beautiful and elegant
Colonial Safari and the Exotic Tropical & Ethnic
The Colonial Safari & Exotic Tropical style emerged about a hundred and fifty years ago, the European colonized the world, from India to the West Indies to the Caribbean to the Far East to India to Hong Kong to the mighty African
Stationed overseas for years, European citizens melded the traditional furnishings from home with the craftsmanship of the locals they governed.

The style was influenced by the climate, and the local customs of the places they visited, All share the influence of far-flung places conquered during the colonisation
The English and European were inveterate collectors; they returned to their native countries importing their new found culture and shipping exotic finds to the great houses back home.
Like Mahogany, wicker,rattan and bamboo furnishings, tropical prints, Chinese porcelain, rugs and such design elements as monkeys, palm trees, ticking stripes, leather and wicker, sisal and seagrass matting.
Explorers and botanists, collected samples and published prints of the exotic plants and animals they found.
A collection that spanned the globe demonstrated the wealth and well-traveled sophistication of the returned expatriate.
When you dream of relaxing in that idyllic, tropical interior, if you're looking to bring a touch of wilderness into your own home there are a few simple ideas you can incorporate to channel the colonial safari style.
It appeals to our sense of the exotic, of adventure, and of romance — a home decorated in the true Colonial style adds an air of romance and sophistication to today's casual lifestyle.
Look at the interiors and costumes in the film "Out of Africa" and you'll really see the style and ofcourse nowadays we have the famous designer Ralph Lauren, he is noted for his exceptionally stylish interiors, which often feature animal prints and safari chic.

To create the illusion of a luxury tented camp on the Serengeti or a safari lodge on the Masai Mara, you'll need some exotic items of furniture and some eclectic accessories and mosquito netting draped around beds to bring the look together.
You could aslo create an exclusive display cabinet or a small nook to showcase your art collection inspired the Exotic-Tropical theme
use fresh white as a basic color ore soft warm inviting earth tones and natural browns and beiges and muted red and bright, fresh greens as your color base and add perhaps a small amount of a wonderful, tropical color, such bright coral red, orange, yellow, pink or turquoise.
use organic like green vegetation and beautiful, tropical flowers for your inspiration, just add in a rug, cushion or chair in tribal designs and animal print, wooden bowls, carved animal figures and picture frames, baskets, and carved candleholders, and add tribal figures or masks on a wall to help achieve the feel of the Serengeti.
use a patterned wallpaper, choose a striking, bold design – lush foliage or bold flowers will work fabulously.
You will find yourself roped in by the magic and the mystique of Africa…
Going for an African style is all about
reconnecting with nature and its unadulterated magic.
use organic and sustainable materials as well as artifacts and earthenware
wood in its various forms is an important constituent of the African design scheme. You have plenty of choices here with cedar, ebony or African mahogany among many other popular wood types.
furniture was small scalle and some furnishings were created specifically for travel. Called campaign furniture, these pieces often folded up into trunks or broke down into pieces to be easily packed and moved.
officers' tents were furnished with beautiful collapsible bed frames, folding chairs, and writing tables and liquor cabinets installed into linnen/leather strapped steamer trunks, or campaign desk all look at home in a safari-style room.
many trunks had fitted interiors to hold china, glass and silver
workaday items were often of sturdy pewter, shell, bone and tortoiseshell.
look for cups made of horn, silver with bone handles, tortoise patterned glass, leather-bound books and letter-writing boxes.
They bring to mind the romance of travel such as letter-writing and cocktails at sunset.
Local craftsmen commissioned to copy the European style furnishings in local woods.
Mahogany was commonly used and the earliest colonial antiques can be spotted by their use of the largest, oldest boards as the virgin forests were cut in the New World.
Honduran, West Indian, and Barbadian craftsmen, not being as highly trained, simplified the English furnishings to create the less ornate pieces we know today as British Colonial Style.
The word bungalow, for instance, is an Indian word for a small one and a half story mountain house the wealthier class in India used to escape the summer heat.
They had peaked roofs, heavy beams, and porches to catch the breeze.
Imported back to England, the bungalow style was perfect for cottages by the sea. When it migrated to America at the end of the nineteenth century,
The bungalow was adopted as the perfect small family home and today the idea of the bungalow conjures up images of summers at the shore, or the charm of sitting on the front porch.
The Europeans also adopted fabrics, such as lighter cottons and linens,
Curtains of linen were made with ties at the top, so they could be tied to the tent frames to create rooms within the campaign tents, and easily removed for packing.
Linen or mattress ticking slipcovers covered the heavy furnishings and protected them from the dust that filtered in through open windows in the heat.
Interiors in the tropics were light and airy, punctuated by the occasional floral chintz or mahogany chest from Europe
Neem eens een kijkje op mijn pinterest foto-pagina vol met inspiratie en interieur ideeën in deze stijl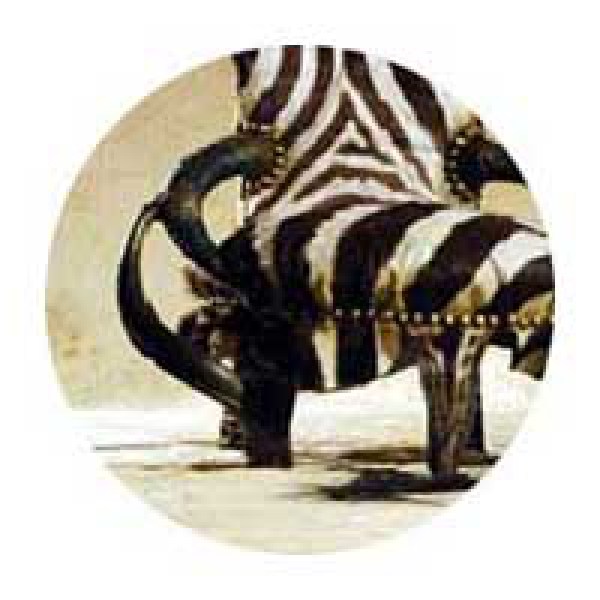 ---